Rubrik och ingress till innehållet på sidan
In English
Huvudinnehåll
Welcome to Swedenergy - Energiföretagen Sverige!
Swedenergy is a non-profit industry and special interest organisation for companies involved in the supply, distribution, selling and storage of energy, mostly electricity, heat and cool. As the united voice of the Swedish energy sector, the organisation monitors and promotes the interests of its members and the energy sector in general. Swedenergy has a total of 400 members. These include state-owned, municipal and private sector companies as well as associations of diverse types.


An efficient energy system
During the past 60 years Sweden has built up one of the worlds most efficient energy systems.
The biggest part is the electricity system, which produced 152 TWh in 2016. 98 percent of the production is carbon free. Hydropower and nuclear power was the biggest parts 2016, with around 40 percent each. Wind power and Combined Heat and Power (CHP) produced around 10 percent each.
The heat market is the second largest energy market in Sweden, with a turnover that amounts to SEK 100 billion and 100 TWh. The main parts is district heating and electricity (incl heatpumps).
Our well-developed district heating systems enable us to utilize energy resources that would otherwise be wasted (such as waste heat from industry and energy recycling of waste). Combined heat and power ensures the best possible use of resources. In the district heating only 6 percent of the fuels come from fossil resources, the rest is biomass (42 %) or recycled heat in diverse ways.
Our vision 2050: Sustainable energy for all, always
Sustainable energy for all - always
The foundation of the association is built on the conviction that sustainable energy solutions require an holistic and well-founded system approach. Together with our costumers and society we want to build a long term sustainable energy system, where everyone can have the energy they need – every second, 24 hours a day, every day in the week.
Swedenergy's focus is sustainability in all three dimensions; environment, social and economy sustainability.
Energy makes society go round
A reliable supply and price of energy have an impact on our lives every day of the year. Sweden has built a low-carbon diverse and efficient energy system.
Swedenergy works for all the three parts of the Energy Triangle: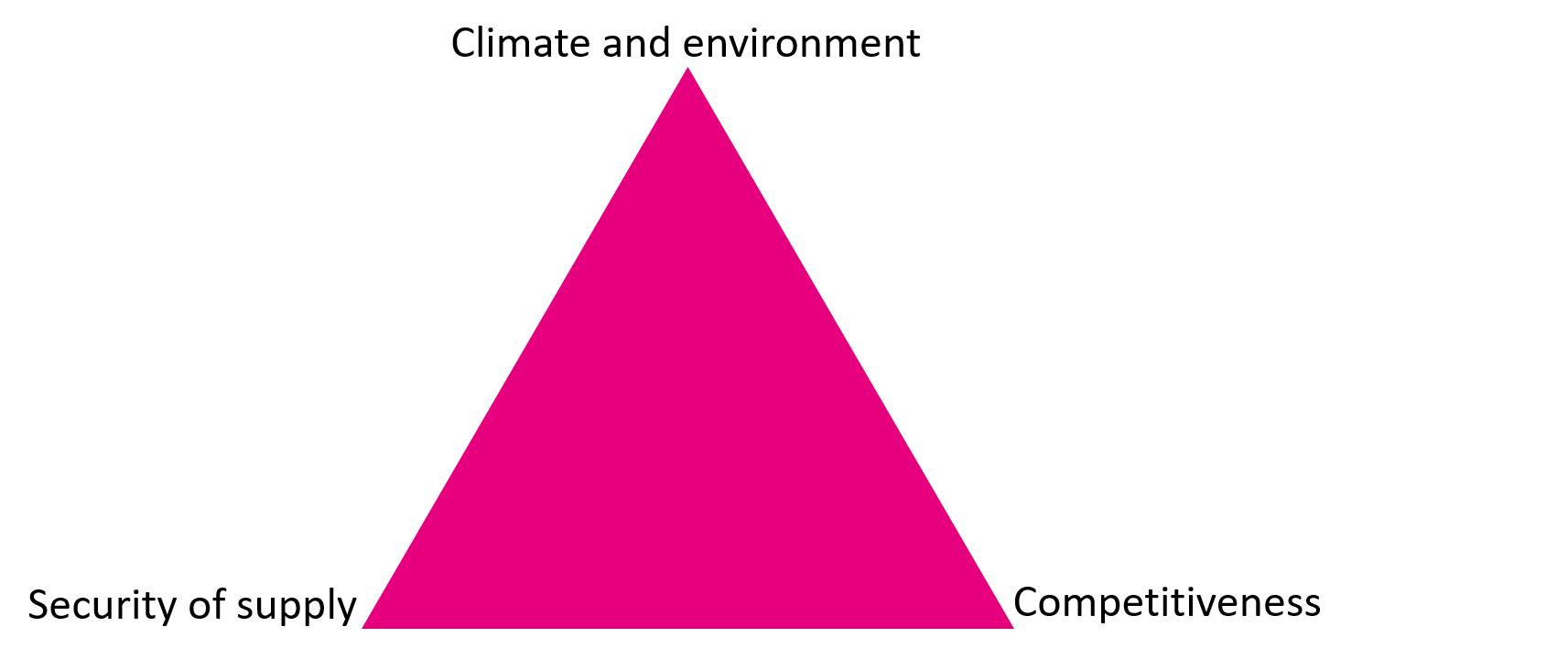 Thanks to the diverse production structure, we are not dependent on one individual energy source. An extensive production mix has also guaranteed that the price of electricity and district heat in Sweden is among the most favourable in Europe.
Energy production plants and electricity and district heating networks in Sweden are constantly maintained and renewed, and therefore there is a high security of supply.
Circular economy in practice
Sweden is already a global leader when it comes to putting circular economy principals into practice, For nearly fifty years public and private actors have collaborated to create a number of circular systems.